My Digital Nomad Experiment
Last month I undertook a somewhat, spontaneous trip to Thailand to work (and play) remotely for a month.
Why? In large part, I just felt like it – but I've also been toying with the idea of embarking on a digital nomad adventure and travelling around the world making money from my laptop as I go.
This is quite a big deal for me – so before taking drastic, life-changing action, I wanted to run an experiment to see how I would fair working and living in a different country for one month.
I've be talking about doing this for a while, and after explaining my grand plan to my barber one afternoon in July; and realising that I had done nothing but talk about it, I went straight home and booked a flight to Bangkok.
That was the hard part over and the rest just fell into place (with a lot of research and planning, of course).
I had a number of concerns about this lifestyle:
Would I be as productive working abroad?
Could I eat vegan meals every day?
Would the time difference disrupt team communications?
Would I miss home and get lonely?
Below are some of my experiences and observations and how the experience affected me.
Developing a Flexible Working Style
My normal work routine completely fell apart while I was away, but this turned out to be a blessing. Instead of forcing myself to work on a fixed schedule, I'd start work around 7am and work for 2-3 hours clearing important tasks and the rest of the day would then become completely flexible.
Some days, I'd just work all day, on others – I'd go and do things for fun then work in highly focused bursts throughout the day and evening. Sometimes I'd just work late into the evenings and other times I'd work weekends.
I learnt to work spontaneously whenever I felt energetic and productive, rather than forcing myself to work at times when I was tired or feeling uninspired.
And guess what? I achieved everything I needed to. I was cranking out higher quality work at a faster pace than I normally would because I had lazer focus and high energy during work hours.
If you don't feel like working, there's little point in sitting in an office half-arsing tasks and dragging them out for hours when you can just leave it and crank them out in 30 minutes later that evening or tomorrow at a much higher quality.
In saying that, working when you feel like working will only work if you're a motivated individual. I'm not suggesting you can lay around for 4 days of the week and then work for 3 hours on a Friday. I'm motivated to do things on a daily basis, so this approach works for me.
Right now, it's 12pm on Sunday and I'm writing this blog post because I feel motivated and inspired to do so. Normally I'd just leave it until Monday (a work day) but then tomorrow I might not feel like writing, so I'm riding my motivational wave today to ensure it gets done.
Working from Beautiful Locations
I also learnt that working from different locations can fuel productivity. I worked from a mixture of co-working spaces, my apartments and the middle of a coconuts palm. If you work from where you feel like working at that point in time, then you'll feel better motivated to work.
In Chiang Mai, I worked from Punspace in Nimman – which was super cool. A really lovely space full of nomads from all over the world; I found myself quite productive here and it was only a 15 minute walk from my apartment.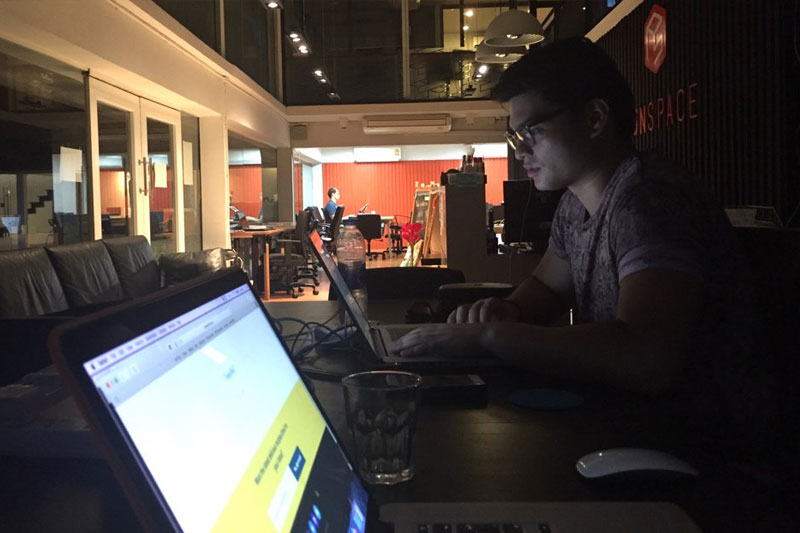 Sunday night hustle in Chiang Mai
I had planned to visit a co-working space in Bangkok but I ended up working from my apartment every day as it was a 50 minute skytrain ride each way to the good co-working spaces, so I figured I'd save more hours and that would allow me to see and do more things in Bangkok.
The final week of my trip in Koh Samui was more of a holiday for me, so I didn't really need a desk, although I did end up working a few hours from my decking in the middle of a coconuts palm, which was probably the most beautiful spot I've ever worked from.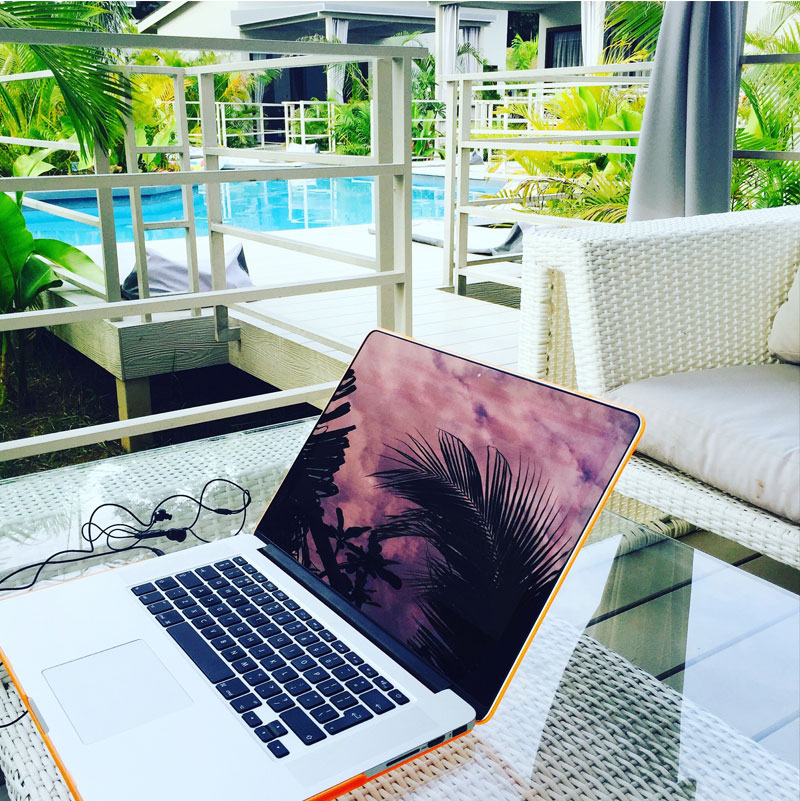 My 'office' on Koh Samui
I'm now trying to adopt this flexible working ethos in Belfast – if I don't feel like travelling into the city to work from my office and would prefer to just chill on my sofa with my laptop, then I'm allowing myself to do this.
Removing the feeling that I need to be in a certain place to work at a certain time is giving me much more freedom and flexibility, which results in a more relaxed work day. I know this won't be the case every day, as I do love being in the city most days, but it's all about just doing what's best for you in any given moment.
Working Across 3 Time Zones
I thought this could have been problematic but it actually turned out to be quite beneficial. I was 6 hours ahead of my colleagues at home in Belfast, which meant I could hit the office early in the morning and get lots of work done without any distractions while everyone back home was tucked up in bed.
There are obviously a lot of benefits to sitting beside your team in the same room, but these can quickly turn into distractions. For example, I'm forever asking my co-founder David questions and to help with problems, which removes him from his own flow.
I couldn't ask him anything a lot of the time while I was away, so anything I couldn't solve myself just got added to a list for him to look at later and this worked surprisingly well to optimise both of our own work flows.
It also forced us to be a little more organised with planning each day to ensure neither of us were waiting around for completed tasks from one and other.
We used Slack for communication and usually had 1-2 hours of overlap everyday where we could discuss problems and plans. We were able to cover a lot more ground over two timezones because our time spent working was spanning more hours.
The only minor issue was communicating with colleagues in New York as it's a 12 hour time difference, but I just organised Skype calls during the evening, which wasn't a big deal.
The key factor for this to work is having a team that are completely autonomous, and don't need constant communication to get things done.
Work Life Balance
I've never been a fan of grinding it out for 18 hours a day to earn "the startup badge of honour." I actually think it's pretty disrespectful to your own mind and body to work this way, as I'd previously learnt the hard way.
In Thailand, there is lots to see and do, so working a traditional 9-5 was never going to work for me as I wanted to pack in lots of activities while I was there, so my flexible work hours empowered me to do a lot of wonderful things during the day, like going Scuba diving off Koh Tao and swimming with tropical fish :-)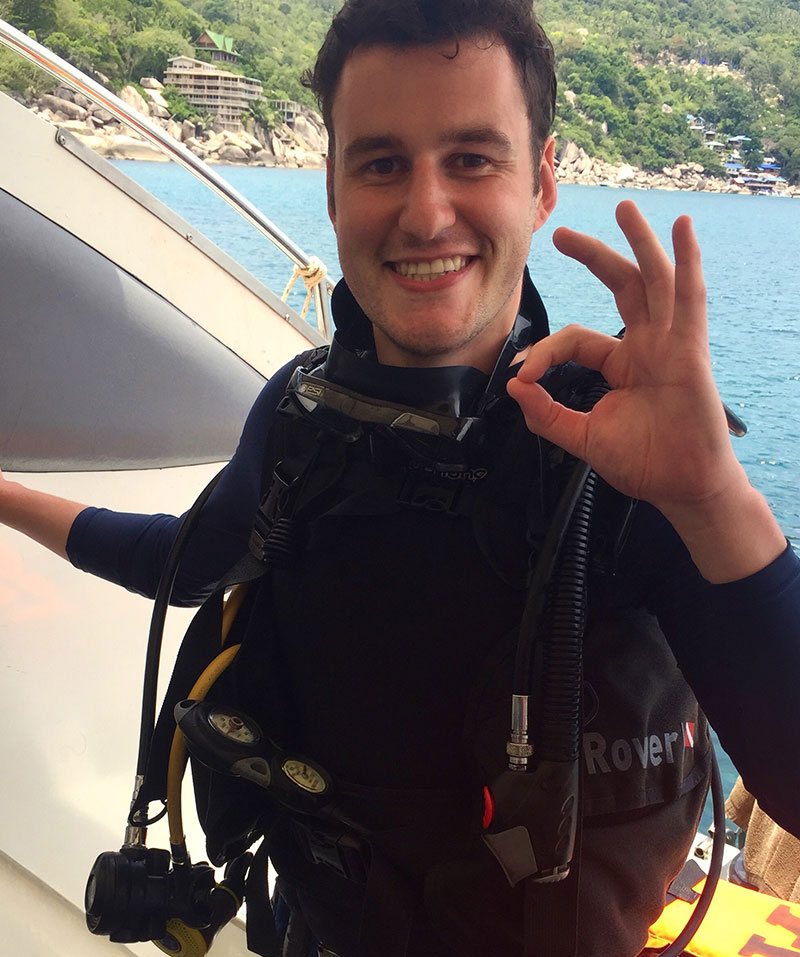 Scuba Diving on Koh Tao
I also took a traditional Thai cooking class; a fruit carving class; went trekking in the Jungle; and visited the most amazing 3D art museum.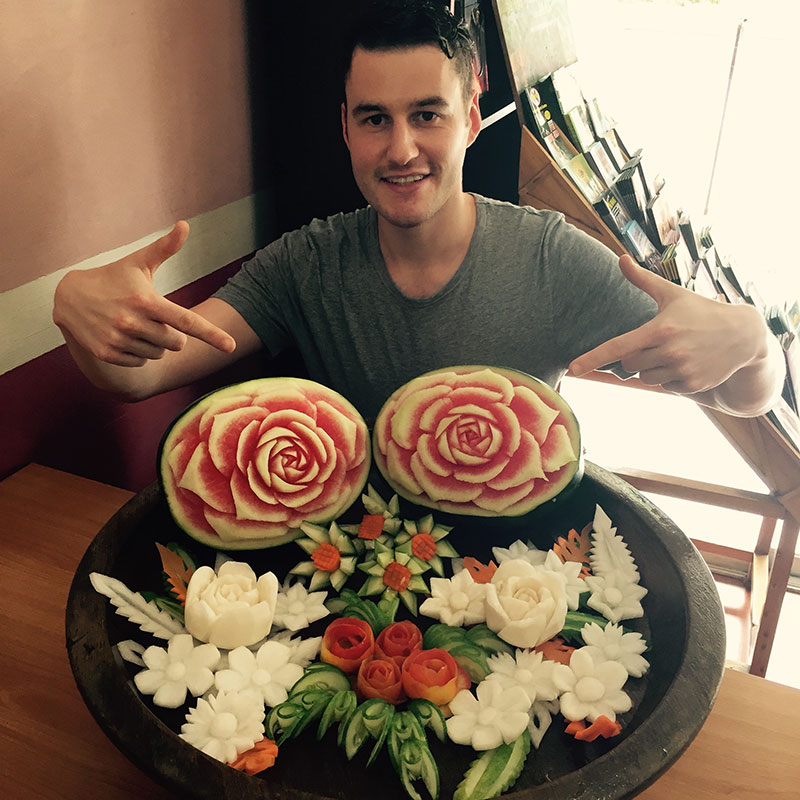 Fruit Carving in Chiang Mai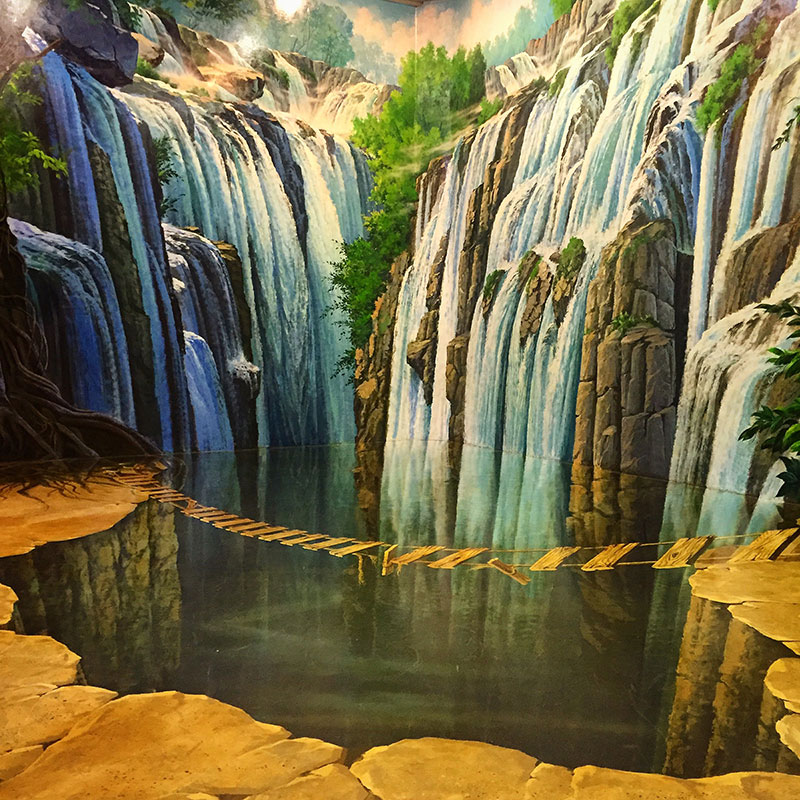 Art In Paradise, Chiang Mai
It's these kind of experiences that make life richer, and I think it's important that you find the time do things outside of working, even if you're an entrepreneur.
There's no point in spending most of your life working on your business if all you do is sit in front of your computer all day, every day.
Will that make you a lot of money? Maybe.
Will it give you true wealth from experiencing the beauty the world has to offer? No.
It's also surprising how easy it is to live this lifestyle, you could live a comfortable life in Thailand for around £600/mo and a very comfortable life for £1000/mo – that kind of money is not overly difficult to make online.
Loneliness
I'm quite introverted and enjoy my own company, so travelling alone doesn't bother me. In fact, I prefer it. I did have some concerns that being away from friends, family and colleagues for a month would be a lonely experience and being in a non-English speaking country did present it's own challenges at times.
There were many days where my daily conversations consisted of little more than "Sawadee krap" and "Kop Khun krap" (Hello and Thank you in Thai) and most of the day was spent inside my own head – you have to really enjoy your own company to spend this much time inside your own head with little external communication.
It's a Small World
One day in the co-working space in Chiang Mai, a guy around a similar age sat down beside me. Normally, I'd say hello but because I hadn't really spoken to anyone in days I'd almost forgotten how to speak. We looked at each other and then he said "Hey, I'm Matt" and I responded.
We both instantly recognised the accents and it turned out he lived 2 miles away from me at home and we both went to the same high school. Small world!
After that, the introvert problems ceased as we spoke most days, worked together and went out for beers and food. The really nice thing about meeting digital nomads is they are generally pretty open minded with their own unique stories so there's lots to talk about.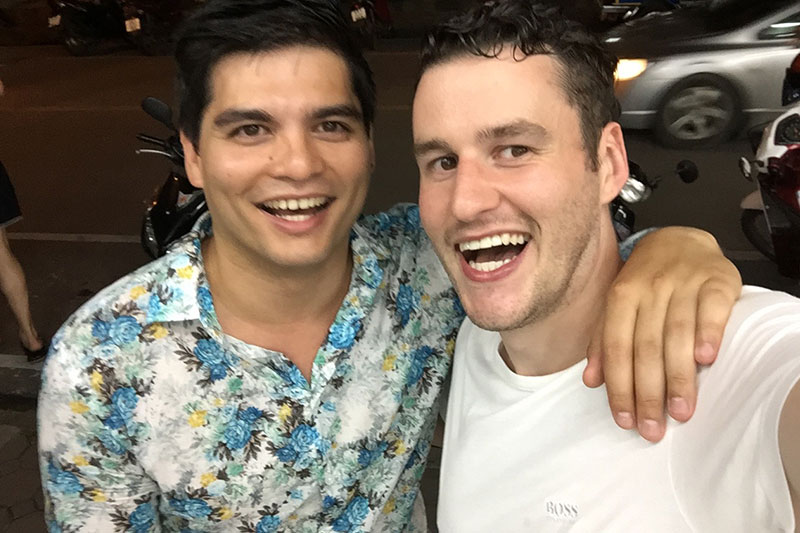 Beers in Chiang Mai, with Matt from Northern Ireland
I met a few other great people during my experience, both locals and other travellers – I found most people to be very open and friendly. I met a local Thai girl outside the gym one morning who randomly struck up a conversation with me and then we did a work out together. On Samui, I got chatting to a girl from China in a vegan restaurant, we had dinner together most nights after that and hung out on the beach during the day.
I don't think I've ever formed friendships so spontaneously at home.
I kept in touch with friends and family back home almost daily (and finally found the real value in Facebook) so this aspect wasn't too difficult.
Cost of Living
One of the huge benefits of living in Thailand is the low cost of living, and it's no surprise that so many nomads and entrepreneurs are now headed to south east Asia to work.
Apartments range from £100-£300/mo for really high quality condos in great locations and fully furnished. Public transport, including 30 minute taxi rides are usually always under £1. Food could be as cheap as 50p for a meal, up to £5-6 for a full multi-course dinner, and the quality puts most restaurants at home to shame.
Technology Fail
One of the only problems I had, was actually totally unexpected – I couldn't access half of my online accounts! Paypal, Google and Hotmail were the worst. They detected my foreign login and automatically locked me out of my accounts; the only way I could verify was with a text to my UK number, which of course I couldn't access while I was away.
So a lesson learnt, set up a VPN before going travelling in future.
Eating Out Vegan
This was a big concern for me, but it turned out Thailand is a vegan paradise. I was eating out 3-5 times per day, usually in different restaurants and enjoying the most incredible vegan food at ridiculous prices.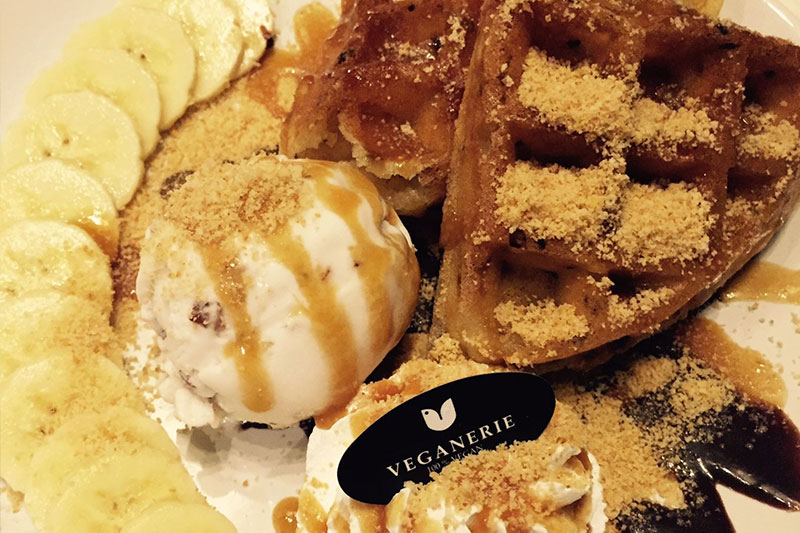 Vegan Banoffee Waffles at The Veganarie Concept in Bangkok
I had meals as low as 50p, with an average around £1-3. These were all from high-end vegan restaurants. Thai street food is a lot cheaper at around 50p - £1 but I wasn't confident enough to try and negotiate vegan dishes in Thai.
What next?
I've never really been truly settled in Northern Ireland, and I've been talking about moving for years but I've never really had the guts to do it. Now I've proved to myself that a digital nomad lifestyle is possible and comfortable.
So, my plan for 2017 is to pack a small bag and return to Thailand for a few months before becoming completely location-independant and travelling around the world while making money from my laptop.
I'm pretty excited about it and some of the new ideas and projects I have in the pipeline. I've spent years waiting for the right time to do it, but when I met Matt in Chiang Mai he told me:
"There is no right time, just do it. I quit my job back home and used my savings to get out here. I have a few months runway to set up a business and I have no choice but to make it work."
(Matt is also blogging about his digital nomad adventure, check out his blog here).
It's probably one of the best pieces of advice I've heard in a while. You can sit around forever waiting for the right circumstances and conditions to do what you want, or you can just take action and make it happen right now.
See you soon, Thailand.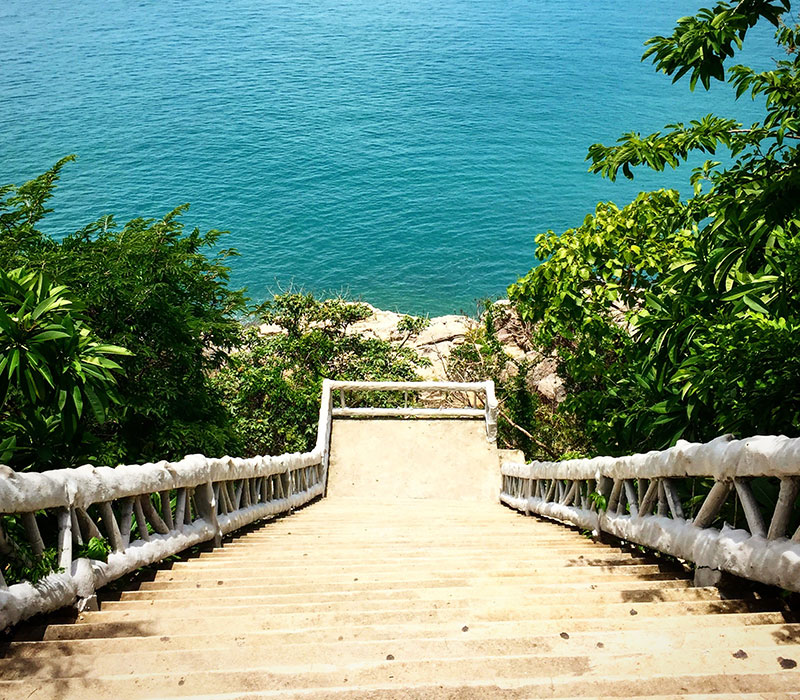 P.S. I have a tonne of pics from my travels on my Instagram :-)