MA Multidisciplinary Design
As I approach the final hours of my Masters in Multidisciplinary Design, I'd like to share my experience of the course and offer some reflective thoughts. This may be of interest to anyone considering signing up in the future.
I joined MA Multidisciplinary Design (now MFA) in September 2011 after graduating from Interactive Multimedia Design. My motivations for doing the Masters where to:
improve my design skills and become an expert in my field
build my personal and professional confidence
Upon reflection, these goals seem underwhelming now considering the experiences I've had and the achievements gained while on the course, which have included:
co-founding a company of which I am now the Chief Executive Officer
developing my personal confidence to a level I'd never considered possible
improving my public speaking skills and speaking at a range of events
setting up and maintaining a freelance design business
travelling to San Francisco to pitch a product in front of highly respected Silicon Valley venture capitalists
receiving seed funding from the university
being shortlisted for the Bank of Ireland's 25K awards
sponsoring a highly respected web design conference
getting a job as an interactive design lecturer
creating four successful web based products
I'll cover each of these points later, but first I'd like to talk a little about about the course itself.
The Course
MA (MFA) Multidisciplinary Design aims to challenge the boundaries between various art and design disciplines. Each year group is composed of a mixture of individuals from different backgrounds and disciplines to encourage the cross fertilisation of ideas. Within my year group of 9 students, there was a mixture of web, ceramic, textile and graphic designers along with an illustrator and one 3D artist.
When I joined the course, it was 3 semesters long (18 months), but since transitioning to an MFA, it's now 4 semesters (2 years). The course provides the freedom to do pretty much whatever you like in terms of your own work, there are no set assignments, you come up with your own ideas and pursue them. Initially this was quite daunting and I struggled for several weeks to accustom myself with this structure, it was a major shock to the system coming from an undergraduate course where everything is spoon fed. Post graduate life is very much self propelled, you receive guidance when you need it, but you have to manage your time, make your own decisions and drive yourself forward.
The first semester offers an 'Exploration and Enquiry' module which encourages the undertaking of a broad scope of research before moving into the second semester, where the work is expected to be more focused, setting the foundation for the Masters project in Year 2. A large volume of practical work is required and is this informed by research into any subjects you like.
Teaching Staff
I can say with confidence that you are unlikely to find teaching at the level and quality of that delivered on this course elsewhere. We are very fortunate to have some of the leading experts from their respective industries teaching on the course, which include:
Christopher Murphy (internationally renowned speaker, author and one half of the tweed clad duo, The Standardistas).
Greg Maguire – 3D and visual effects artist known for his work on Avatar, Harry Potter and Terminator Salvation.
Each student is assigned a personal mentor based on their area of focus. I've spent the last two years under the mentorship of Chris Murphy, who continually goes way beyond the call of duty in order to support his students. You will not meet a more passionate teacher who loves nothing more than to drive his students to success.
Cost
When I signed up for the course, it cost around £3,500 for the two years, but it's now in the region of £4,500. This does sound like a lot of money, especially coming from an undergraduate course with a 5 figure loan debt under your belt, but it really is an insignificant amount in comparison to what you will get out of the course, both in terms of monetary value and opportunities.
Unfortunately there are no student loans available for post graduates, but you can pay the fee off over a period of 5 months each year. One of the main things the Masters has taught me is to be money business money focused. Within a few weeks on the course you will have acquired the knowledge you need in order to go out into the world and exploit your design skills for cash.
I paid my fees and supported myself initially by offering consultancy and design services to local startups developing web applications. This allowed me to make money while gaining real world experience in my own subject area, which helped to inform the work I was doing on the Masters.
I can't stress enough, that the rewards are much greater than the initial investment cost.
My Practice
My primary research and practical focus on the course has been on four key areas:
Product and software design
Business and startups (business models, finance, pricing and fundraising)
Marketing and promotion
Psychology and emotion
This research has enabled me to properly define my practice as a digital product designer. Prior to the Masters, I knew how to make things, but I didn't understand why I was doing it, nor did I have an awareness of the rational behind many of my decisions. I was merely designing based on instinct.
Now I have a comprehensive knowledge of user interface and user experience design that allows me to make informed decisions. My design process has been completely reformed based on the minimum viable product and iterative design methodologies. In addition to this I have a deep understanding of user psychology and emotions, the factors that drive user decisions and also how to manipulate encourage these decisions when necessary.
The output of my research has been the development of four web based applications.
Get Invited
Get Invited is a design focused web application for selling tickets and managing events online.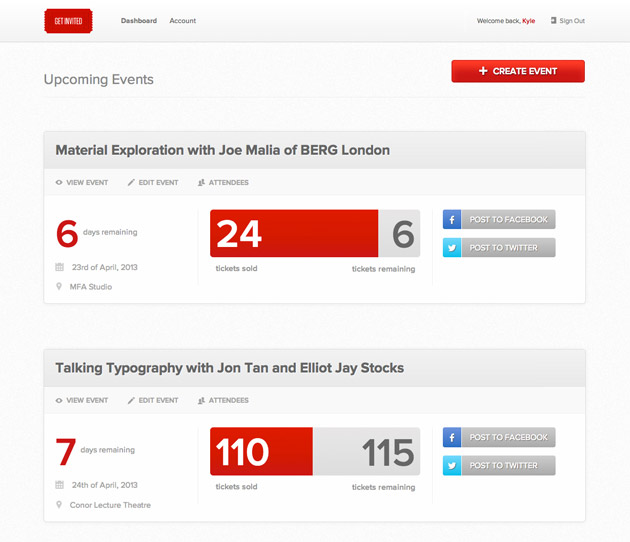 The company was founded by Christopher Murphy, David Turner (CTO) and myself. To date we have partnered with a range of organisations, including UTV, The Ulster Festival, Refresh and The University of Ulster to deliver both small one off events and larger festival events that run for several weeks.
We are currently working with the The Office of Innovation, NISP and Tim Brundle to grow the business into a multi-million pound company.
Vizuali
Vizuali is an online tool that helps you create beautiful visual scrapbooks containing your favourite images and videos from the web.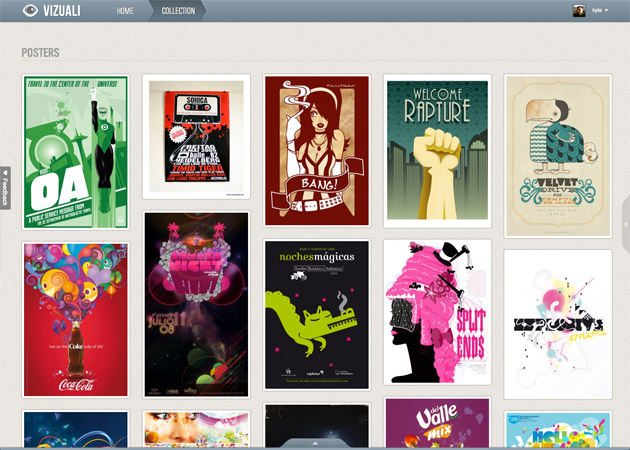 It began initially as an undergraduate project and has since been developed significantly while on the Masters to produce a more focused and intuitive application. In June 2011, it was awarded the Manley's design prize for the best major project before being featured in the summer special edition of .net magazine in August 2011. It has received praise from key influencers within the web industry, including: Andy Clarke, Trent Walton, Sarah Parmenter and Naomi Atkinson. It was also recognised by the highly respected Fictive Kin design studio in Brooklyn, New York. This resulted in an offer for a paid summer internship.
Bear CSS
Bear CSS is a handy little tool for web designers. It saves time by generating automated stylesheet templates based on HTML markup.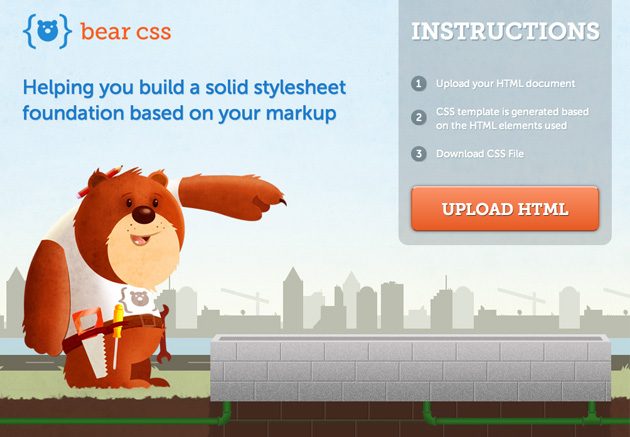 The aim of this project was to create an emotionally engaging interface for an otherwise unexciting technical tool. Collaborating with illustrator, Jordan Henderson, we gave birth to 'Clive' and placed him inside a compelling visual story. Clive is a builder, helping users to build their website.
To apply my research of Everett Rogers diffusion of innovations theory, I contacted Chris Spooner, a sneezer within the web industry, in the hope that he would talk about the project on his Line25 blog, which he did. This lead to Bear CSS being featured on the front page of yCombinators hacker news website, and drove over 11,000 hits to the site in less than 12 hours. The total amount of hits for the first month was 46,100. The experiment was a complete success.
The project has since been featured on a multitude of websites and blogs and accumulated over 5,000 mentions on Twitter. Which I've tracked here: www.bearcss.com/tweets.
Read more about the promotional strategy of Bear CSS.
Groovedeck
Groovdeck is a record player for your Soundcloud tracks.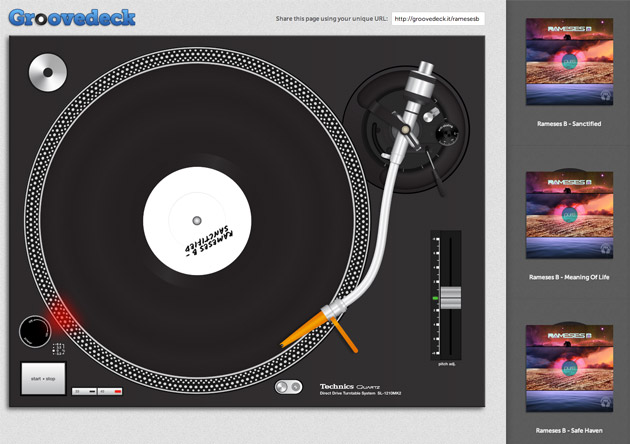 The aim of this project, undertaken over a weekend of intensive work was to replace the default, unengaging Soundcloud interface by adding a layer of emotion that ignites feelings of nostalgia for music fans.
Read more about Groovedeck and how I built the product in 5 days.
Public Speaking
Developing my public speaking skills was very much a happy accident. This used to be my greatest fear and I'd written off any hopes of getting over it. Within a few weeks of studying on the MA, we received some intensive training from local actress Andrea Montgomery, who taught us about body language, narrative and some interesting vocal warm up exercises. This experience was hugely beneficial to me and I still employ many of these principles daily.
Creative Camp 2012 & 2013
In March last year, the opportunity arose to speak at the annual Creative Camp conference in Belfast. I volunteered to speak at the event and delivered a 10 minute talk entitled 'Every Product Tell's a Story'. This was my first proper public speaking engagement outside of class presentations and was a rather surreal experience. It went extremely well, with the exception of a minor difficult in answering a question at the end. Thinking on my feet was a skill I had yet to acquire.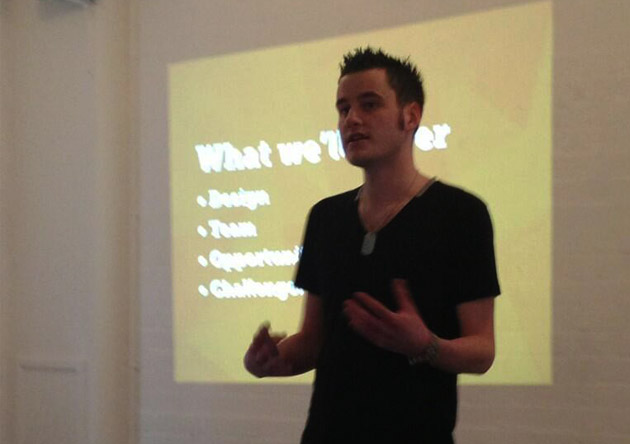 I also spoke at this years event, delivering a talk on my journey from a student to startup. I shared my experience working on Get Invited and some of the challenges we faced.
Read more about my experience at Creative Camp 2012.
Lecturing at The Northern Regional College
Shortly after this, I was invited to return to my old college, the NRC in Newtownabbey, to deliver a talk on my progress since I left. At this point, thanks to the Masters, I was more or less over my fear of public speaking. During the visit I was encouraged to apply for an upcoming lecturing post. I applied, went for the interview and got the job. I have since been lecturing on the Interactive Design HNC course and teaching school kids with learning difficulties how to use Photoshop and video editing software.
Refresh Belfast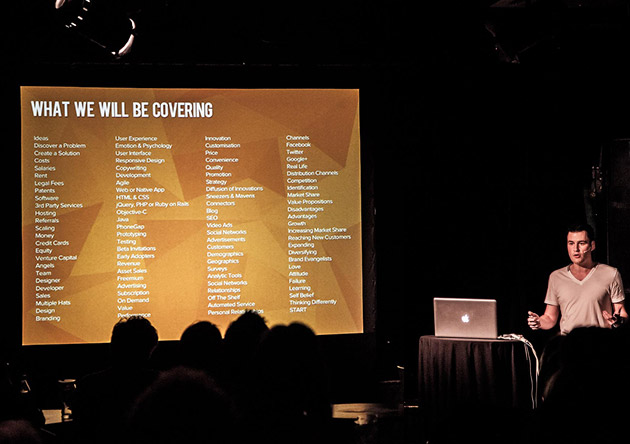 In December this year, I faced my most challenging public speaking engagement to date – delivering a talk to over 100 attendees at the highly respected Refresh event in Belfast. To add to the excitement, I was delivering 100 slides in rapid succession over the course of 10 minutes. There was no margin for error. Fortunately, the talk was a success and received positive feedback.
Industry Conference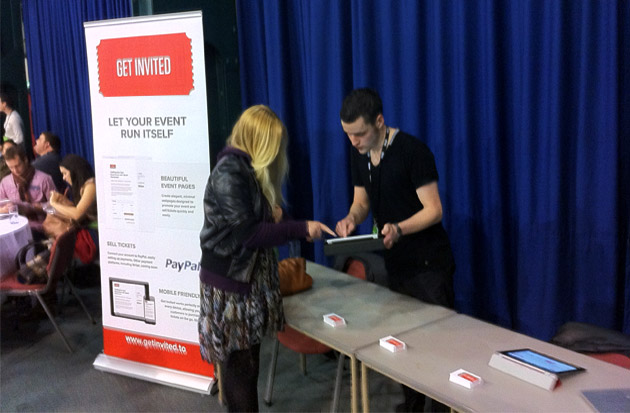 In March of this year, Get Invited received seed funding from the University of Ulster's Proof of Principle fund. We used some of this money to sponsor Industry Conference, a highly respected web design conference in Newcastle upon Tyne. We rented an exhibitors stand and delivered product demonstrations throughout the day, this included demonstrating our product to and networking with key influencers, such as: Josh Brewer (Principle Designer at Twitter); Noah Stoaks (Apple, Palm) and Harry Roberts (Sky TV).
Read more about my experience at Industry Conference
eBootcamp at Stanford University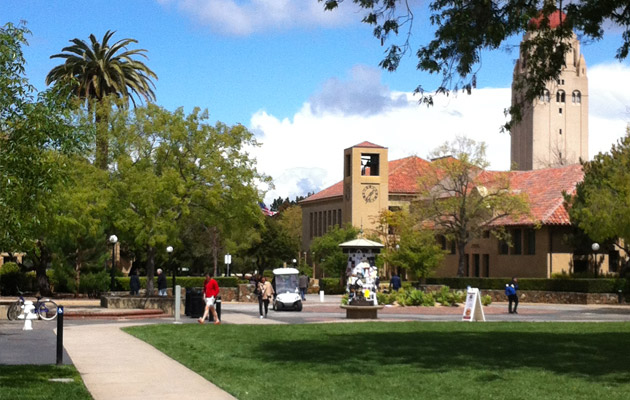 The most significant experience of the Masters for me was my trip the Stanford University in California. This enabled young student entrepreneurs to travel to the prestigious conference and pitch their startup ideas to some of the most respected venture capitalists in Silicon Valley. I filled in an application form and produced a short video (thanks to Kitty Crawford) demonstrating Get Invited. Shortly after, I received the news that I had been selected as one of only 30 international students to attend the programme. The University of Ulster and Invest NI funded the trip, so it only cost me a few dollars for beer.
Throughout the course of the week I visited a number of startups in the valley, including; Dropbox, Foursquare, Twitter, Zenga, Tesla, Yahoo and I had an all-you-can-eat lunch buffet at Google.
I received some intensive training and guidance from some of the best VC's in the valley, including Vinhod Kosla. The final event was a pitching competition in front of the other student entrepreneurs and VC's. I can say now that travelling to San Francisco on your own and pitching your first startup in a room full of the best student entrepreneurs in the world is a nerve wrecking experience. Thankfully, due to the public speaking training I'd received on the Masters, I held my own and received some encouraging feedback from the VC's.
Read more about my experience at eBootcamp.
Conclusion
The last two years have been two of the best so far in my life, I've had some unbelievable experiences and opportunities, most of which are a result of the Masters. I honestly can't say a bad word about the course, I've met some fantastic people and Chris Murphy has been the best mentor, helping put me on the path to a very promising future career.
Part of me is sad to be finishing, but I'm leaving with a collection of experiences I will never forget and the foundations for a company with huge, global potential – so the journey is only just beginning.
I think it's safe to say, I got my £3,500 worth.