A Guide to Startup Funding in Northern Ireland
I've recently updated this information and packaged it into a handy, downloadable PDF guide available from Get Started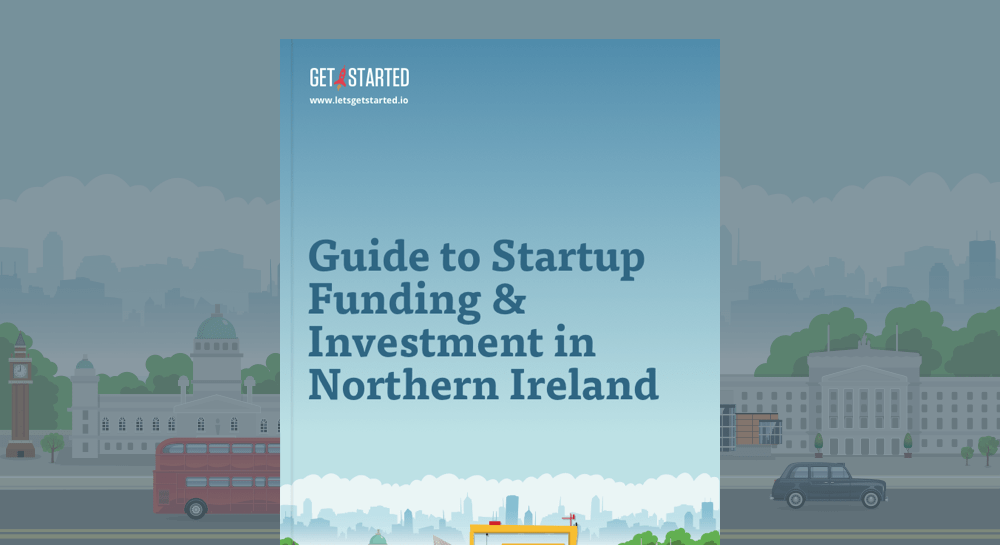 Raising startup finance for the first time can be incredibly daunting, but Northern Ireland is a great place to do it and we have the added benefit of various government grants to help new and existing businesses grow.
This article serves as a guide to the different sources of startup funding within Northern Ireland. It's by no means a comprehensive resource but it lists the primary sources of funding for many startups. If I'm missing any, please feel free to get in touch and I'll add them here. It's also worth noting that some of these funds and grants may change from time to time, so I recommend reading the most up to date information on the relevant websites provided.
The article covers early stage concept funding; seed investments; series A; and additional grants available to augment equity funding.
Early Stage Funding
NISPO II
NISPO, or Northern Ireland Spin Out Funds is one of the primary investment funds in Northern Ireland and is often the first port of call for many startups. It's a £30m fund managed by Techstart NI that provides three investment initiatives:
1. Proof of Concept
The POC grants are designed to help test initial assumptions and establish the commercial viability of an idea. You need to be very early stage, pre-product and pre-revenue in order to be eligible. The grant can be used to fund externally sourced customer and market research, prototype development and the creation of a business plan. The grant comes in two flavours: £10k (apply any time) or £40k (quarterly applications) depending on the demands of your project. It's important to note that, as with most grants – capital is not provided upfront, you must incur all costs yourself and then claim these back. POC grants require no repayment and you don't have to give up any equity in return.
More info: http://www.techstartni.com/proof-of-concept
2. Invest Growth Fund
The IGF is a £13m seed equity fund for early-stage startups who need to begin scaling. Ideally, you will have a product and some early traction. Revenue is a bonus but not essential. The IGF is managed by Techstart NI and investments occur in three stages:
Stage 1 – Product validation, typically £60k to provide runway to validate a product;
Stage 2 – £150k to validate the product/market fit and potential to scale;
Stage 3 – £150k+ for portfolio companies to fuel growth.
Unlike it's predecessor, NISPO I, which required 30% of the round to be contributed by a private investor, NISPO II will invest the full round size and provide an option for convertible loan notes.
More info: http://www.techstartni.com/funding
University Spinout Funds
The NISPO fund also provides two £1.5m funds, one for each University (Ulster and Queens) to spin-out companies founded by academics or students. The fund provides an initial investment ranging between £50k - £250k.
Co-Fund
The Co-Fund is a £7.2m equity fund for early stage startups, managed by Clarendon. Investments through the Co-Fund require that you source 55% of the investment round yourself from a private investor, who must lead the round. Clarendon will then match the remaining 45%. The round size is typically £250k - £450k.
More info: http://www.clarendon-fm.co.uk
Innovation Ulster
Innovation Ulster is the investment vehicle for the University of Ulster. IUL provide support to commercialise technology from within the university, this comes in the form of cash equity investments and a range of support and advice. If you're a student at the University of Ulster, then this is the ideal route to commercialising your idea quickly.
Halo
Halo is a network of business angels which aims to match companies seeking funding with high net-worth individuals. Investors meet 5-6 times a year at evening dinner events which allow 6-7 companies to pitch to 50 angels followed by private Q&A sessions where investors can find out more about the entrepreneur and their business. Halo is a great option for raising the private money required from an investment through the Co-Fund. Since 2009, Halo angels have invested over £7m in Northern Irish companies.
The network is managed by the Northern Ireland Science Park and if you're interested in pitching at Halo, you should contact Paul Clancy
More info: http://www.nisp.co.uk/halo
Series A
The NISPO and Co-Fund are ideal for raising the initial, and possibly second, investment round, but when your company is ready to scale and requires a larger injection of cash you'll need to approach one of the larger VC firms in Northern Ireland. The two main ones are Kernel Capital and Crescent.
Kernel
Kernel are the largest NI based VC whose primary focus is on leading Series A and B rounds between £1m - £4m, although they do also make early stage investments from £200k - £1m. They have the largest capacity of all the funds to deliver a maximum investment in any one company of £10m.
More info: http://www.kernelcapital.ie/funding
Crescent
Crescent will typically make investments ranging between £250k and £1.5m and have the capacity to participate in follow on rounds with a maximum investment of £2.25m in any one company.
More info: http://www.crescentcapital.co.uk
Invest NI Grants
In addition to the various venture capital funds in Northern Ireland, we are fortunate to have a range of government grants available to augment capital raised through investment rounds. The grants rely on you already having raised capital as you have to incur the costs yourself, and then claim back the expenditure, with the exception of the Propel Grant.
Propel Programme
Propel is a 9 month programme managed by Invest NI and delivered by X-Cell Partners. The aim is to guide early stage startups with high growth potential from the initial proof of concept stage through customer validation, business model generation and finally preparing them to pitch to investors for an initial funding round. The programme also provides a £20,000 non-repayable, non-equity based grant which is delivered across four £5,000 payments every three months and is dependant on achieving certain milestones, agreed between you and Invest NI.
As part of the programme, you'll also receive a fully serviced, shared working space in Belfast City Center, complete with broadband. There are a number of workshops over the nine months that cover everything from basic cashflow management to team building and leadership. You'll also be assigned a mentor; a successful and recognised local entrepreneur or investor who will provide one-to-one guidance on a monthly basis.
Development Grant
The development grant provides funding to assist with a wide range of activities, including:
• Travel and subsistence (50% of airline costs and a daily subsistence rate)
• External consultancy
• Marketing costs (print materials, sponsorships)
You can also avail of support for employing a key worker, in which you'll be able to claim back 40% of their salary. Payments can be claimed every three months.
Technical Development Incentive
The TDI grant assists with technical projects that need to be outsourced, for example – if you're building a web application, you could use a TDI grant to help with the costs of having a mobile app developed. TDI provides 50% funding of the project cost up to a maximum of £4,000 excluding VAT. The grant can also be used to assist with costs associated with protecting intellectual property; such as patents and trademarks.
Research and Development
The R&D grant can be used to fund up to 70% of project costs (up to a maximum of £50,000) for researching and developing new technology or products. It can be used to develop a prototype, iterate on existing technology and also for handling costs associated with protecting intellectual property.
Innovation Voucher
The innovation voucher is a £4,000 grant that can be used to acquire specialist knowledge from 1 of 39 universities. The voucher should be used to acquire services that are not available from the private sector, so you won't be able to attain funding for developing basic software or mobile apps.
Interim Manager
If you need some interim help at the managerial level and can't commit to bringing someone on full-time, then the Interim Manager grant provides up to 49% of the cost of contracting an external consultant over a period of 9 months and up to a maximum project cost of £30k, so you'll receive £14.7k of the £30k. This could be for an interim CFO, COO or other managerial position.
It's important to note that these grants are public money and there is De minimis aid limit of £157K that you can claim over a three year period.
Crowdfunding
If you don't want to venture down the private equity route to get your idea off the ground, then Crowdfunding is a great alternative and Belfast has had many recent success stories. Essentially, this works by raising money in smaller amounts from a wider range of individuals, as opposed to a single investor. There are a number of crowd funding platforms available, but the two main ones are:
Kickstarter
More suited for tangible products rather than software, Kickstarter is a great way to raise between £500 - £100,000+ in a short space of time (typically 30 days). You set a funding target for your project, upload a description, accompanied by a video and then Kickstarter offers a platform for you to promote your project and collect payments. If you reach your funding target within the timeframe, then you receive the money minus a 5% fee. If you don't reach your goal, then you get nothing and none of the funders are charged.
There have been a number of recent Kickstarter successes in Northern Ireland, mostly notably: Brewbot; the beer brewing robot which raised £114K; Break Conference (£23K); The beautifully illustrated children's book – Chalky and the New Sports Car (£13K); and Modular synthesiser, Patchblocks (£67K).
Seedrs
For SaaS products, Seedrs offers a more suitable equity crowdfunding platform in which companies can raise an investment round through the commitment of tens, or hundreds of individuals investing small amounts. Seedrs manages the legal process and acts as a shareholder representative for the group of investors, so your company maintains a clean CAP table without having lots of additional shareholders. They charge a 7.5% fee on the money raised.
Sians Plan – the weekly healthy meal planning app is a great local example who raised over £100K.
In Closing
Hopefully this serves as a useful resource highlighting the various sources where you can obtain financial help in Northern Ireland for getting your business idea off the ground. I'll follow up next week with a second post that explains, in detail, the process of raising a private equity investment.